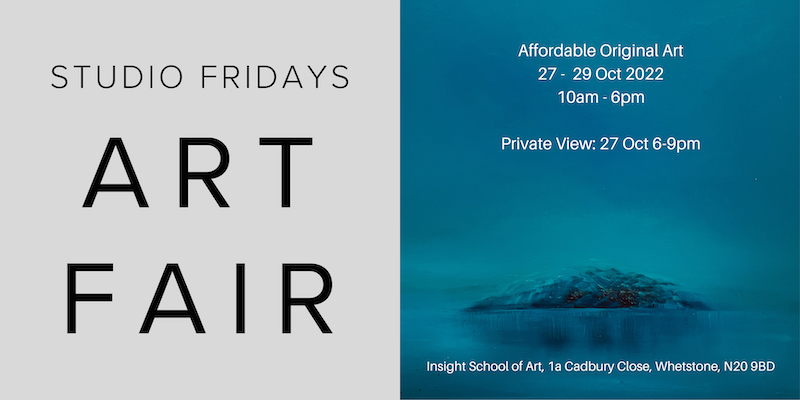 27th- 29th October 2022
10-6pm each day
at Insight School of Art, 1A Cadbury Close, Whetstone N20 9BD.
Free entry
Private View: 27th October 6-9pm
All eighteen Studio Fridays artists will be showing their work together in the first ever Studio Fridays Art Fair, to be held in their Whetstone studio at Insight School of Art. This will be a unique opportunity for North London Art lovers to attend an art fair locally, to view and buy original art direct from the some of the best emerging artists working today.
Studio Fridays was formed seven years ago by Founder and Director of Insight School of Art, Paul Regan.
Paul commented, 'I wanted to create a supportive environment for new and emerging professional artists living in North London; an exciting space where each artist feels motivated to develop their practice and make meaningful work. Studio Fridays has proved itself to be inspirational, with many artists winning distinguished art prizes and being selected to exhibit at some of the most prestigious London galleries.'
Paul and the Studio Fridays artists are very proud of the many successes that have been achieved to date. This year, Emma Chambers who creates, delicate, modern day botanical paintings of ordinary plants in their landscape, exhibited at the Royal Academy Summer Exhibition and was also elected as an associate member of the Royal Watercolour Society.
Also exhibiting will be Raina Goran, an artist who has had lots of success with open competitions in London and recently won the David Gluck memorial prize at the RWS. Raina creates brightly coloured mixed media, cityscapes from collaged, hand painted acrylic papers. Dawn Limbert, a pastel landscape artist, has also had a great year of success, being selected as associate member of the Pastel Society of America, the South-Eastern Pastel Society and the Pastel Guild of Europe.
Although Studio Fridays formed seven years ago, this will be the first time the artists have collectively shown their work together. There will be dozens of truly beautiful, contemporary artworks on show, all displayed in the stunning Insight Gallery. All Studio Fridays artists will be in the gallery to chat about their practice. Most of all, they want people to come and enjoy the work on show, with no obligation to buy.'