Natalia Millman prepares for 'Vanishing Point' (press release):
21 April 2021 in Exhibitions by Paul Regan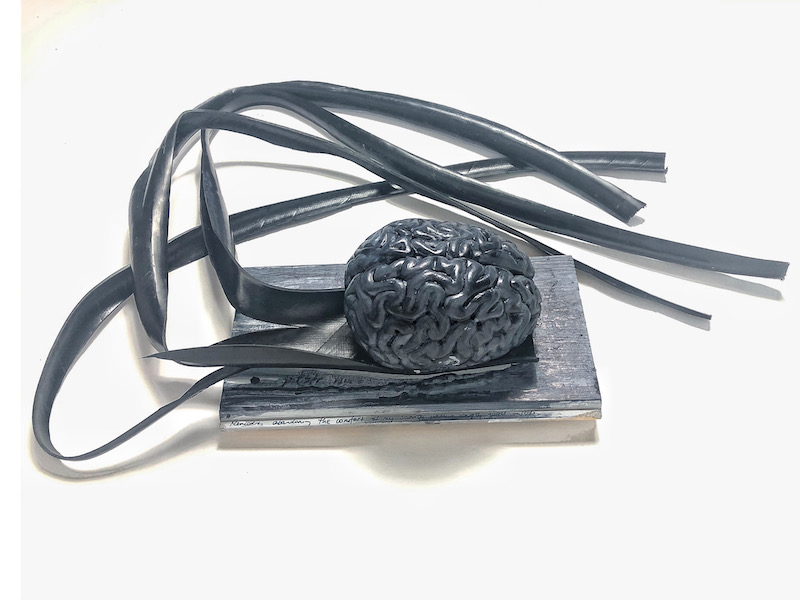 VANISHING POINT
AN EXHIBITION OF CURRENT WORK BY ARTIST
NATALIA MILLMAN
The Crypt Gallery, London
October 6-10 October 2021
LONDON BASED CONCEPTUAL ARTIST NATALIA MILLMAN EXPLORES THE IMPACT OF AGEING AND DEMENTIA AT THE CRYPT GALLERY IN LONDON.
Millman's work investigates the fear of ageing and the stigma of dementia, highlighting the damage that time imposes on human body and mind, how it erases language, memories and consciousness.
"My work has grown out of personal experience of loss, after my father recently passed away within months of being diagnosed with dementia. I have spent the past year in my studio making work to understand how he must have tried to make sense of the world though confusion and realisation of inevitable end. I wanted to share my family's story about this tragic disease. I have looked at physical changes, the effect of dementia on the brain, grieving process, memory loss, social barriers that segregate the old, versions of afterlife. Having produced these pieces, I now aim to raise awareness and support organisations who assist the elderly affected by this disease" says the artist.
Millman's abstract paintings made of mixed media comment on physical decay and the connection with nature while her wire, ash and fabric installation focus on the fear of mortality. She incorporates hair and shapes of body parts to draw attention to beauty of the ageing body and uses video and photography to dwell on the importance of human connection in the times of loss and the process of filtering memories.
Much of Millman's work is constructed from material found on building sites which she gives another life modifying its past function. What she finds resonates with the feeling of care and support for disappearing and unwanted.
The unique, atmospheric Crypt Gallery in London's Euston area, is hidden underground, with no natural light. "I felt that it is an ideal space to exhibit my work", says the artist.
Millman moved to London from Ukraine in 2001 and has been a part of Insight school of Art since 2013 and was recently invited to join the prestigious Studio Fridays group of artists. She regularly exhibits in Art Fairs, solo or in group shows and pop-up exhibitions.
To contact the artist for interview or more information on her solo exhibition "TRANSIENCE OF BEING" at the Crypt Gallery, London 6-10 October 2021, please email info@nataliamillmanart.com or call 07702945751.
Instagram https://www.instagram.com/nataliamillmanart/
Facebook https://www.facebook.com/nataliamillmanart