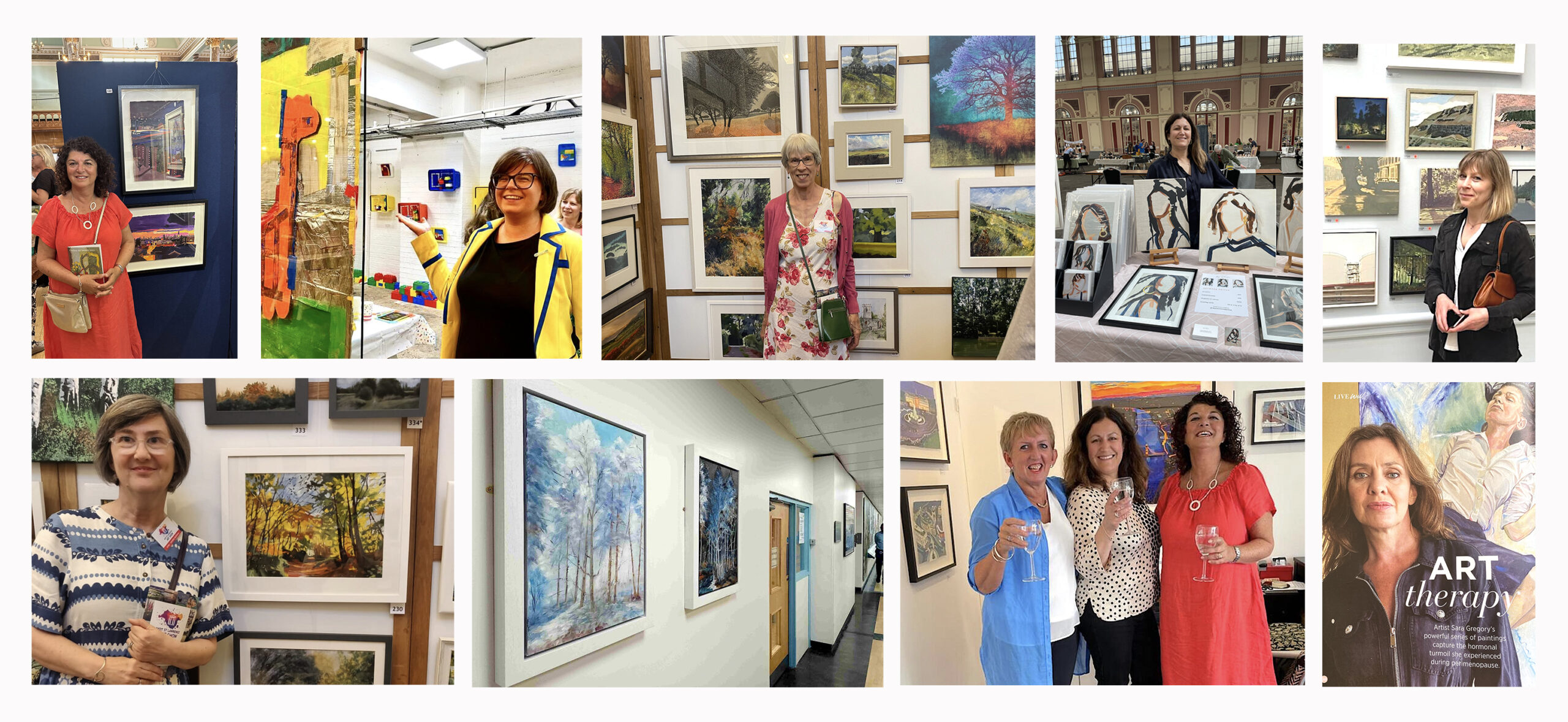 As the summer break comes to an end, it feels like the perfect time to reflect on all the amazing stories of success for Studio Fridays artists so far this year.
'Menopause – Anxiety', one of the many powerful self portraits depicting the emotions felt during menopause by Sara Gregory, was shortlisted for this year's Women in Art Prize. Gregory was presented with the People Choice Award at a ceremony at the Roundhouse in Camden. Gregory was also interviewed about her work by the Middling Along Podcast with Emma Thomas and was featured over a four page spread in the Liz Earle Magazine for Sept / Oct 23.
Diana Sandetskaya showed for the first time at the Royal Academy of Arts Summer Exhibition, having had her painting; 'Night Garden' selected. Also during the summer, Sandetskaya's painting, 'Corner of Parkside II' was selected for the Townhouse Open in Spitalfields, and Highgate Contemporary included her work in their postcard exhibition. She also showed work at the Ayot St Lawrence Art Show, along with Helen Robinson, Margaret Crutchley, Ayse McGowen and Caroline Matthews. Matthews has also recently been accepted to show work at Lauderdale House in Highgate, Crutchley and Robinson were both selected for the Hertford Open and, along with Neeta Kataria and Natalia Millman, selected for the Letchworth Open at the Broadway Gallery too. Robinson's work was also recently selected for permanent display at the Royal Free Hospital. Her work joins the hospitals impressive collection aimed at enhancing the hospitals surroundings for staff and patients.
Dawn Limbert had work selected for the Pastel Society's annual exhibition at the Mall Galleries for the second year running,  and with the Manchester Academy of Fine Art. New for this year, Limbert has been travelling to art societies in and around London to talks about her work and demonstrate her pastel technique, as well as delivering an online workshop for Unison Colour. Limbert also teamed up with Studio Fridays artists Raina Goran and Elise Mendelle this summer for a three artist group show at Avivson Gallery in Highgate.
Raina Goran exhibited once again with the Royal Watercolour Society at the Bankside Gallery and the Royal Institute of Painters in Watercolour at the Mall Galleries. She also had, for the first time, two of her collage paintings; 'Bankside' and 'Rooftop View', selected for the Chelsea Art Society Summer Exhibition and, having mentored student @azagury_jackitoart, Goran became involved in Kisharon School's 'heART Edit' auction, raising £54k for the @kisharon_charity.
Goran, along with Studio Fridays artist Alice Gavin Atashkar, joined the Bakery Gallery at their new, Islington location. The Bakery Gallery also took Gavin- Atashkar's work to the Affordable Art Fair.
Elise Mendelle, who exhibited with Goran and Limbert at Avivson Gallery, has been popping up with her work at a number of venues over the summer, including at the Italian Job pub in Hackney with @loca.art, a Maker's Market at Ally Pally's for their 150th birthday celebrations, a portrait painting event at a private party and running workshops at the Art House in Crouch End, where she also has work on display.
Celestine Thomas's colourful abstracts have been selected for a number of shows, including 'New Wave' at Spitalfields Studios, 'Words from the Sky' and 'Group Portrait' at Whitespace Gallery in Edinburgh, however, her large solo show, 'Celly's Circus of Curiosities' at the Cass Art Space in Islington allowed visitors to fully immerse themselves and interact with Thomas's world. Studio Fridays artist Ayse McGowen will also be showing at the Cass Art Space soon.
Hilary Vernon Smith and Natalia Millman also had work included in New Wave, and Vernon Smith's appeared in 'Doll' at the House of Smalls too.
Finally, Emma Chambers continues to show work with the Bakery Gallery in Portobello, and at the Affordable Art Fair in Hampstead, where she sold her largest ever (95 x 125cm) oil on canvas; "looking up, Blossom".  As an Associate Member of the Royal Watercolour Society, Chambers showed at their new Whitcomb Street Gallery, as well as two watercolours, " Snakehead Fritillary and Brambles " at the Bankside Gallery's celebration of 350 years of Chelsea Physic Garden.